About me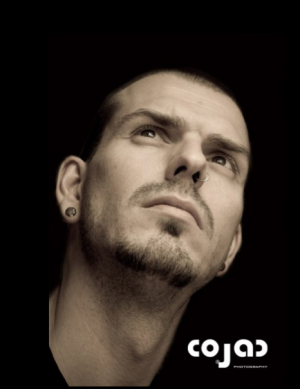 I guess on this page i have to tell you a bit more about me and why i am doing what i'm doing.
It all started in 1973 when i was born in Vlaardingen, The Netherlands, near Rotterdam. Raised in a typical happy family and a splendid childhood. Being creative has always been a part of my life. Eversince i could hold a pencil i have been making drawings and so at the age of 10 i knew i wanted to do a creative job, graphic designer. I went to the Grafisch Lyceum Rotterdam in 1986 and learned all about printing, technical drawings, colours and a lot more. Some things learned there are still useable.
In 1991 I graduated from school and joined the army, most of my days there were filled with fun, music and making drawings. When i was released from the army i started working in several printing factories and specialised in colours and preperations for print. This slowly turned into DTP and Graphic Designer at this moment.
In 1992 i started making music and i put all my creativity into that. i still made drawings but music was my new love. So in 1996 i met an old acquaintance of mine who was working for ID&T and he made it possible for me to do some gigs at big parties in Holland, Belgium and Germany. I did this till 1998, then it slowly died and finally sold all my equipment.
From that moment i started showing more interest in drawing again. I had been growing an interest for the fetish scene and latex fashion and so i came up with the idea to make drawings and paintings of women in latex and other fetish outfits. My first add in 2001 to contact models was hung in the store from latex designer 'Skintight' and 2 girls responded. I borrowed an analogue camera and used a construction light to make the pictures i was going to use for the drawings and paintings. It was exciting and fun, but i found out 2 things, 1: making a painting takes a lot of time (wich i did not have) and 2: shooting half-naked girls can be a burden for your relationship. So after a short period of shooting i stopped....
During that period of non-shooting i did a lot of experimenting in Photoshop and surfed the internet to get inspired by all those great photographers. I really like Steve Diet Goedde, Jo Hammar, Jim Weathers, Peter czernich, Martin Perreault and many more those days. Bought a lot of Marquis and SkinTwo magazines and hoped that one day i could be doing just that.
Finally in 2006 things changed, i bought my first digital SLR and started making pics again. It wasn't untill 2007 that i started looking for a model to work with. This wasn't an easy task, because most models had not seen any work of me or they just said my work was not good enough, wich was true i guess. But finally i found the right girl for the job and the results were very satisfying, because as soon as i started posting them more models showed interest.
At this moment i am honoured to have worked with already a lot of people, great designers, creative makeup artists, but most of all with some amazing looking models. Thank you all for helping me become what i am today!